Cacey Bester, Swarthmore College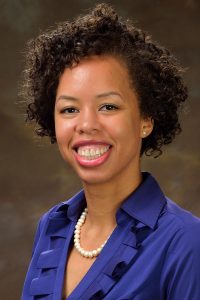 Cacey Bester is an assistant professor of physics at Swarthmore College in
Swarthmore, PA. She received her B.S. in physics from Southern University
and A&M College and her PhD in physics from the University of Chicago in
2015, working with Professor Sidney Nagel. She held postdoctoral positions at
Duke University (2015-2018) and the University of Pennsylvania (2018-2019).
Her research interests are in experimental soft matter and granular physics,
particularly studies of the granular jamming transition, granular impact, and
the aggregation of granular particles due to complex fluid flows. Additionally,
Cacey serves as the chair of the committee on diversity, equity, and inclusion
for the physics and astronomy department at Swarthmore.
Carrie Nugent, Olin College
Dr. Carrie Nugent is a scientist, an assistant professor at Olin College, an author, a TED senior fellow, an enthusiastic science communicator and a firm believer that space exploration is for everyone. She graduated from Bucknell with a B.S. in Physics in 2006.
Her research focuses on asteroid detection. An asteroid impact is the only natural disaster we have the technology to prevent. But since prevention takes time, it's important to search for near-Earth asteroids now. Working with Olin students, Dr. Nugent uses techniques such as machine learning to discover asteroids in large data sets. A TED Senior Fellow, her talk "Adventures of an Asteroid Hunter" has been viewed over a million times. She is the author of the popular science book "Asteroid Hunters" (2017, TED Books, Simon and Schuster). She produces and hosts Spacepod, a podcast that features casual conversations with astronomers, planetary scientists and engineers. She also wrote the script for this TED-ED animation about the first asteroid ever discovered.